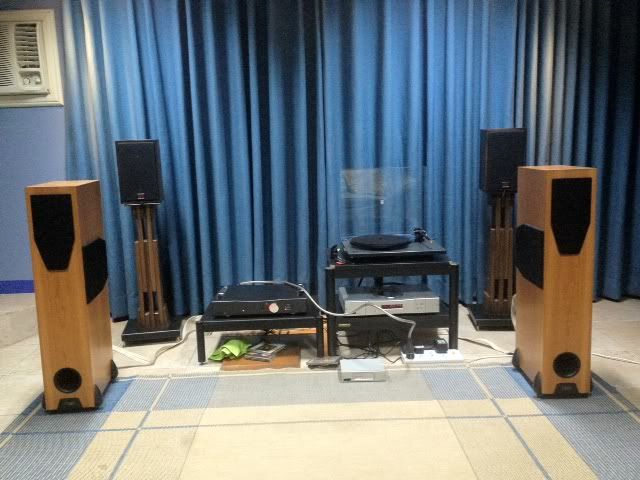 If you've ever wondered how an all Rega system sounds like, try visiting this one c/o Nick and Stephen, the local Rega distributors. Had a chance to have dinner and chat with them last night. Apart from the very nice dinner, there was very good music as well from Stephen's all Rega system. I've never seen a full Rega setup from any of the dealers, and was pleasantly surprised that an all Rega system (right down to the power cables and interconnects) could have such full synergy.
Included in the picture are:
Rega RS5 speakers
Rega Elicit amp
Rega Apollo
RP3 turntable + Exact cart
Rega speaker cable, interconnect, power cable
Also hooked up the new mini amp, the Rega Brio-R, but most of the listening was done with the Elicit.
Without going into too much detail, let me say that the system was very pleasant to listen to, not fatiguing and quite musical. Enough to have us call it a night, este a morning at 1am.
Maybe the Rega dealers can have a full setup for the public to have the opportunity to listen to the potential synergy of an all Rega setup. Actually, Stephen's cozy setup is similar to jamants' setup at Grey when I went there. . .
Thanks to the Rega guys Nick and Stephen!