I hadn't planned on this but one thing led to another. My new job has me commuting daily via subway and I wanted to get back to listening to music. The last NY audio show had me thinking about headphones but I wanted something practical, just "good enough" to tide me over during the hour-long ride to/from work. I also wanted something inexpensive.
The Cheap
That
long Chinese IEM thread at head-fi
got me started and I ended up with a $70
Astrotec AX-35
to use with my LG G2 cellphone running Neutron music player. These IEMs were initially very disappointing but radically improved after 50 hours or so. At this price I didn't expect to nitpick what they did wrong, instead, I preferred to listen to what they did right. In contrast, another FOTM (flavor of the month) IEM at head-fi, the
SIDY DGS100
, which I also bought was just too bloated that I couldn't live with. I realize that at some point all these cheap purchases add up that one may as well buy an excellent IEM so I'm stopping here for now. I'm not looking for over-the-ear IEMs as I keep imagining them getting snagged as our crowded throng exits the train, hurling my glasses underfoot. I also don't want total isolation of a custom IEM as I want to be aware of the surroundings, just in case there are train announcements. I know something like Dita may very well be "The Answer" but I reasoned the price is a no go as I'm only listening casually anyway.
The Chinese IEM market is definitely thriving! It seems folk are equally happy with their Vsonic, DUNU, Fidue, etc. as owners of JHA and Noble customs. The downside of that lowered bar though, is that there's a lot of hyping and it's difficult to find that true gem up front. Eventually I was fed up with my phone which sounded anemic and truncated decays. But then I didn't want a dedicated amp bricked to my phone. Researching portable players led me to the
Shozy Alien
and for $180, this was a good buy. If you can put up with the Alien's quirks and inconveniences, finally here was a component that didn't sound sonically compromised... again, if you can put up with its quirks.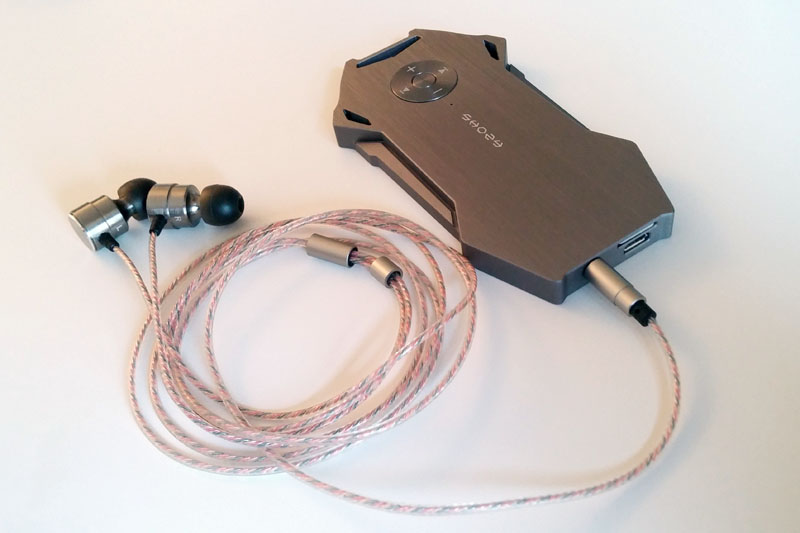 If there are decent sounding Chinese IEMs, then there's gotta be decent sounding cans, right? Well, as it turns out these $60+ Takstar Hi2050 headphones is quite a bargain. Open and non-fatiguing, they're also quite detailed and just fun sounding. Removing my Mytek DAC from my main rig to drive the Takstar from iTunes made me think this could very well serve me as my desktop can.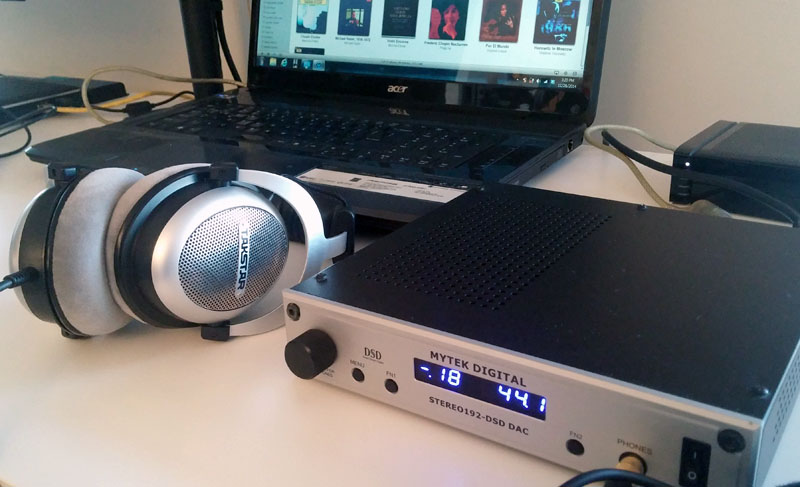 IEMs and headphone group shot--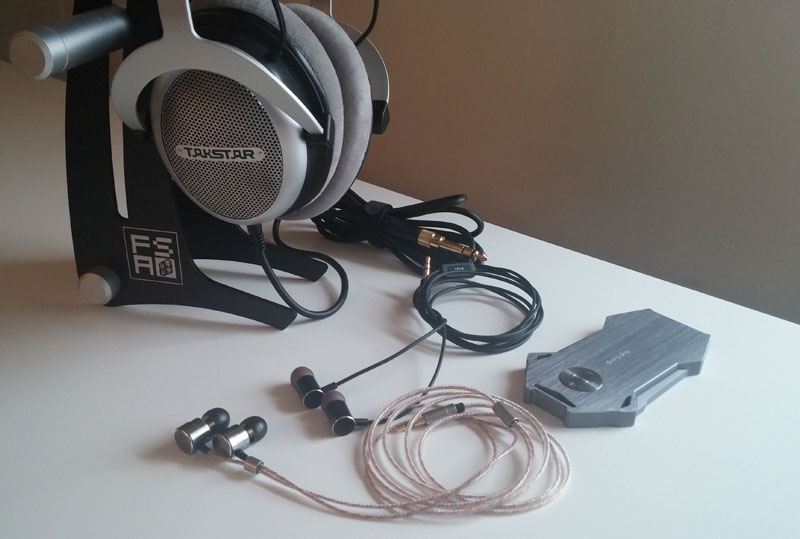 Then again, one thing led to another (this seems to be a pattern
) as I already had planned on retiring my 5+ year old Windows laptop and have been using Linux exclusively. Not wanting to buy additional audio hardware, I checked the Mytek compatibilties with Linux and settled on
Audiophile Linux
.
The Free
Audiophile Linux is a free distribution based on Arch that uses real-time extensions to the Linux kernel to help eliminate dropouts. I had looked at a few others, Daphile, Vortexbox even Openelec (which may be the ticket if you're considering XBMC as well) but loved the thought process behind AP Linux.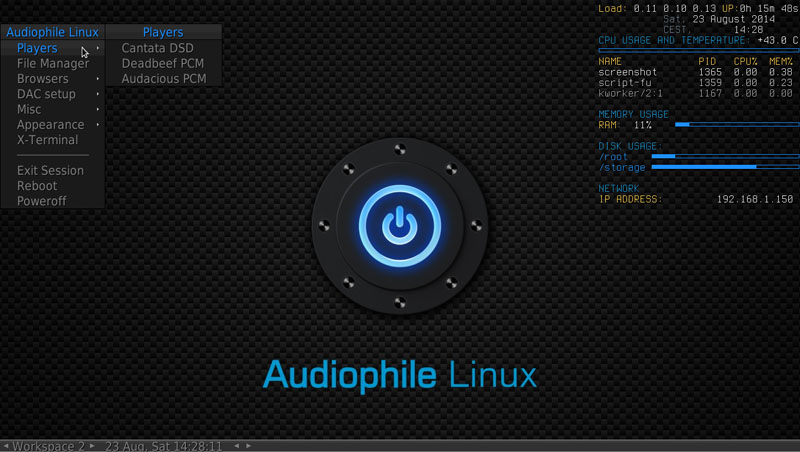 The downside? Well, you need to be well acquainted with Linux to attempt this install and build the
Mytek driver modules
separately. There is a good amount of hacking involved here and it didn't help initially that I wanted to run AP Linux within its own KVM virtual machine running on top of CentOS. I could get AP Linux on the VM to see the Mytek DAC, have it work on USB1 but not on USB2, which was needed for DSD. Eventually, I gave up on this hack.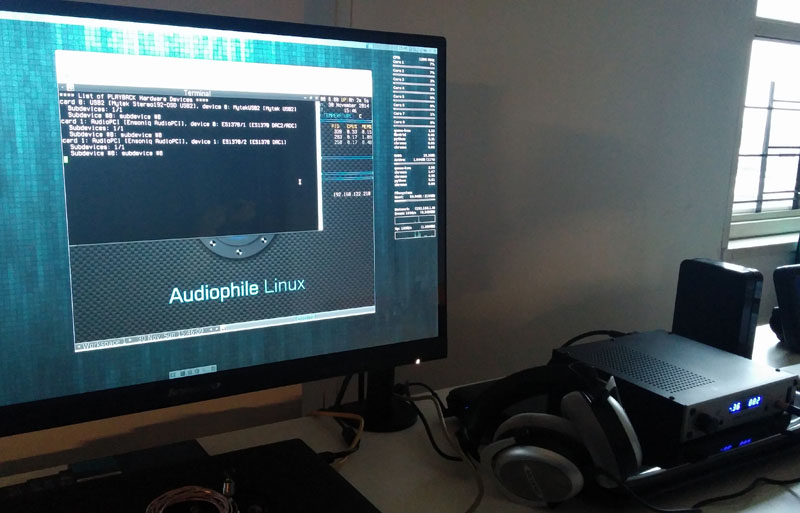 Since upgrading my notebook to 16GB RAM, I had a 4GB stick lying around and decided to find a small form factor PC to use as my music box. Not wanting to spend more than $150, I looked at the
Intel "Next Unit of Computing" (NUC) DN2820
and the
Gigabyte BRIX N2807
but eventually settled on a
Zotac CI320
due to it being fanless (unlike the NUC) and quad-core (unlike both the Brix and NUC). Not that quad-core is gonna matter for a single threaded player, but I reasoned if I couldn't get AP Linux to run with Mytek on this, then I can bring it to the office and use it as a dev MPP cluster.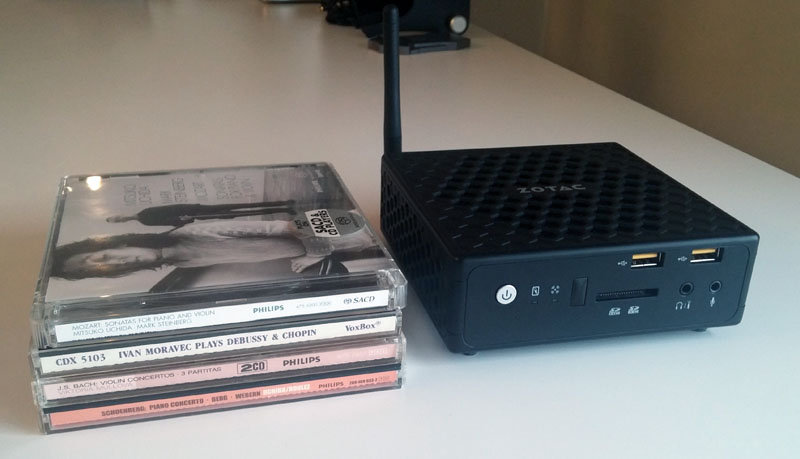 As you can see above, this PC is about the size of 4 CDs put on top of each other. I used my extra 4GB RAM, added a bargain 120GB SSD and played around with a few Linux distros to check compatibility. The main thing with this machine is to disable UEFI and use "Legacy" BIOS option. Bottomline, for less than $200 (since I already had the RAM), I had an extra computer that's much more capable than the Windows laptop I was using to drive iTunes.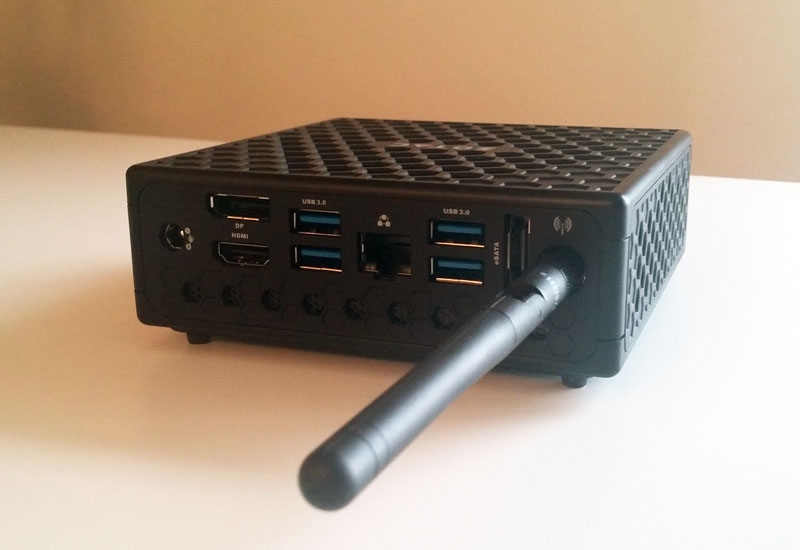 I love the amount of ports on this box! HDMI, Displayport, 4 x USB3, 1 x gigabit Ethernet, wireless, 2 x USB2, infrared for remote controls (no plans to use this), SDCARD and audio ports (I disabled the audio hardware). Did I say it was fanless and is totally quiet? Despite what others have reported about this running hot, running AP Linux on mine gets to around 48 deg C on average.
Whereas my attempts to get Mytek to run on the AP Linux VM took several hours with limited success, this one was a breeze. Below note the Mytek display showing DSD which streams flawlessly from AP Linux. I'm looking forward to dusting off the PS3 I use to rip SACDs (see
here
). But then even with regular 16/44.1 FLAC, the performance is a significant step above iTunes driving the Mytek.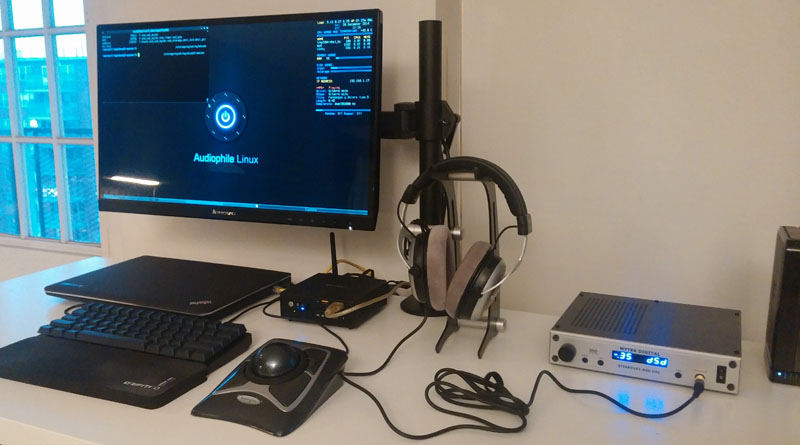 Fact is, since I'm at work during the day, it's the wife who'll be listening mostly. Unfortunately, she's spoiled listening to the main rig and can't put up with the Takstar. So she requested that the Mytek be put back in its proper place, behind bars, away from "the boss."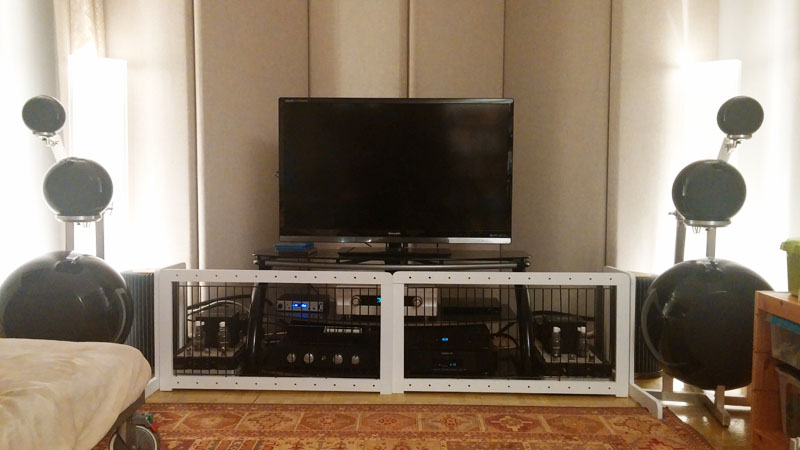 So now I'm without a DAC to drive the Takstar and am thinking maybe a small USB thingie to geek this one out?
But first let me take a step back and ask -- does this mean I'm back?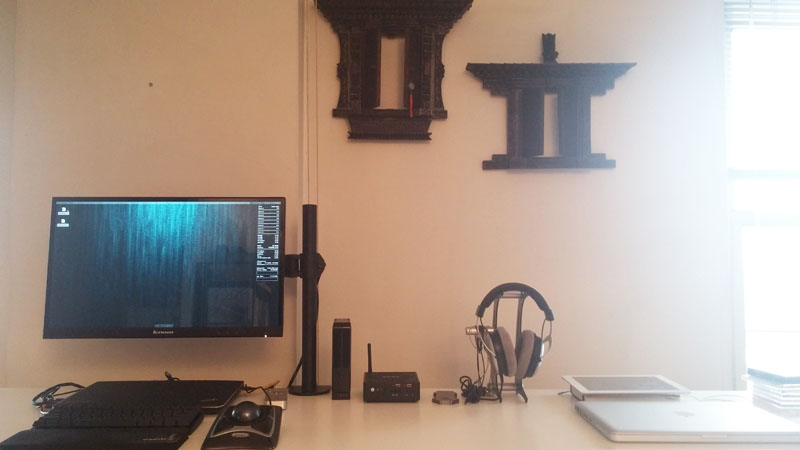 Thanks for reading!