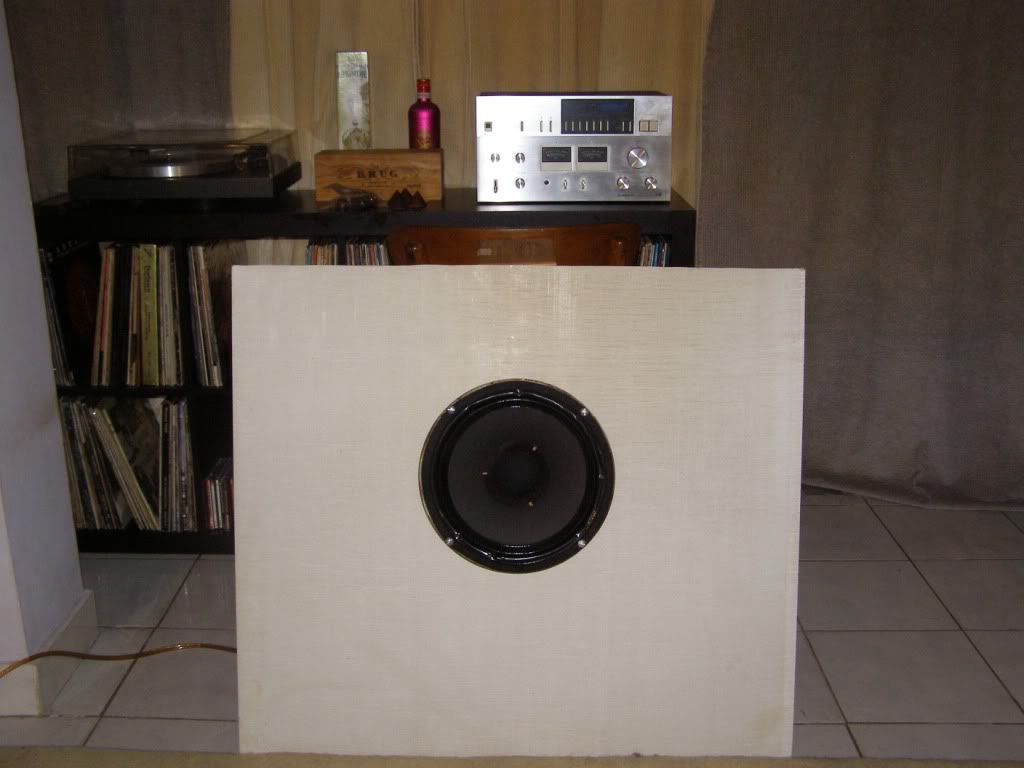 Impressed and inspired by the OB's in the SetUp room, i finally got around to making an OB for a future mono system.
I used a Goodmans Axiom 201, no crossover.
The baffle is some sort of sound proofing board that i had lying around. Size is 36"x32" so i did not bother to trim 1/2" off each dimension per the drawings i have seen on the net. It's leaning against a chair right now at an angle of 12 degrees, i should have the wings/supports finished tomorrow.
I cannot quite believe how natural and detailed this speaker sounds
I do not have any instruments so i cannot take any measurements, but using a 30 watt SS amp i am only turning the volume up to about 25% to achieve a very loud sound that is not distorted.
There is depth, and a slight vertical sound stage but zero sound stage width. Very point source sound, i assume this is because i am using a stereo amp with the speaker selection switch set to L+R.
First test was with the speaker center line 13" off the floor, way too much bass for me, the ceiling vibrated and i could hear bass boom from all angles.
I turned the board around and the sound dropped into place. Amazing, if i had not heard it myself i doubt i would have believed this to be possible.
I have only used CD's so far, i had played 5 cd's before i realised the passage of time, this has to say something about how pleased i am with the sound quality.
Total cost so far is just under $40, this will increase as a vintage mono tone arm, cartridge and amp are now on my rapidly expanding Must Have Want List
I am thinking about using spruce for the final baffle, or has anyone tried glass? (Thinking about black tinted glass or acrylic)
To speed up the process, can i use a mono cartridge on a stereo arm and just ignore the headshell leads for one channel? Then just connect the OB to the appropriate channel?