Browsing through a folder I compiled in the pre-internet days when I would write high end companies just to receive their catalogs, I felt a bit nostalgic and at times surprised at some info that escaped me during those times. Like, the Dennesen Soundtractor was very much available from a company still famous for their reasonably priced cartridges - SUMIKO: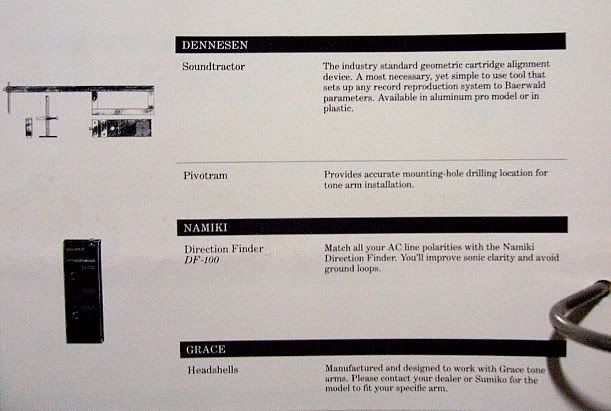 And notable among their product line are: Grace Tonearm and complete accessories, Namiki Direction Finder (polarity checker -I was told that in the Philippines, there is no polarity - maybe this can be tackled in another thread, from those who would like to shed light ), The Fluxbuster ( cartridge D-magnetizer), Reflex Clamps, System Mat, Rigid Mounting Kit which includes the miniature wrench to hold down nuts, and a host of super analog products.
VPI-19MKII:
Maybe this catalog convinced me to indent my table from the late Mang Dima, and I ordered the piano finish with tall dustcover. The spec sheet inside the catalog is very impressively laid out, with diagrams of parts and materials used that is very understandable to the layman.
VPI Magic Brick:
I brought home 3 of them from the States and barely missed the 'overweight baggage extra charge'.
This is one product which I will not be suprised if the freight cost more than the brick. I still use them. Some skeptics will call this
hawshiaw
but in those times, very popular, and I believe there is an effect over the sound spectrum.
Infinity IRS V: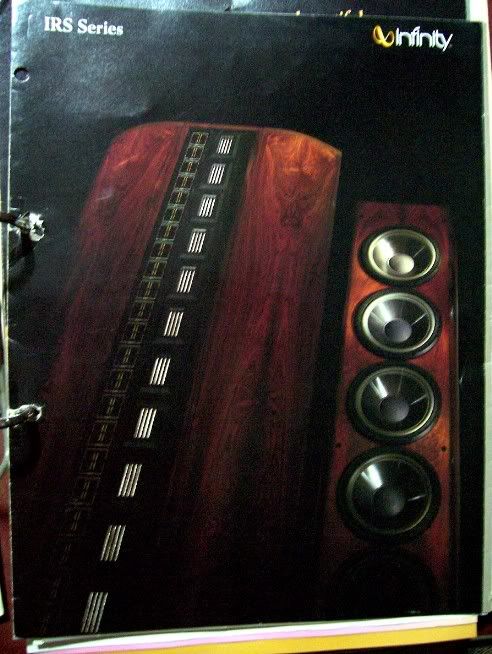 No, I never had this. How I wish I did.
HPs reference loudspeakers for a long time, this thing was my dream speakers till it went into self-obsolescence. Good thing, because I still haven't been able to build a new house for it.
But every now and then, I am able to listen to the Series III because the owner lives 5 minutes away from me.
ARC D-79C: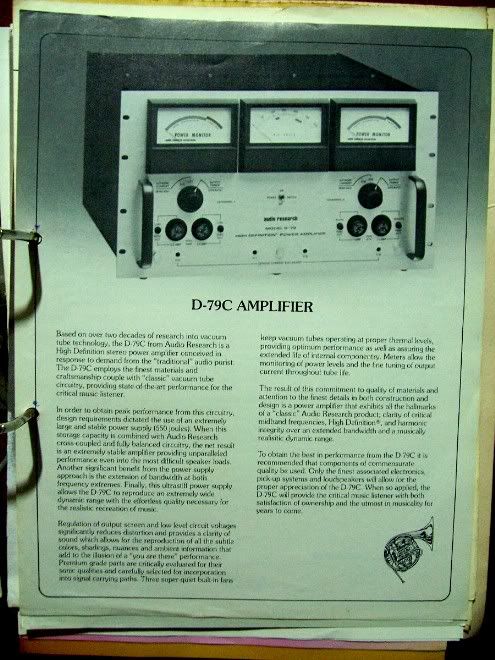 I also never had this. But the same owner with the IRS III has. So problem solved.
One of the classic tube amps of all time.
Thiel CS 5: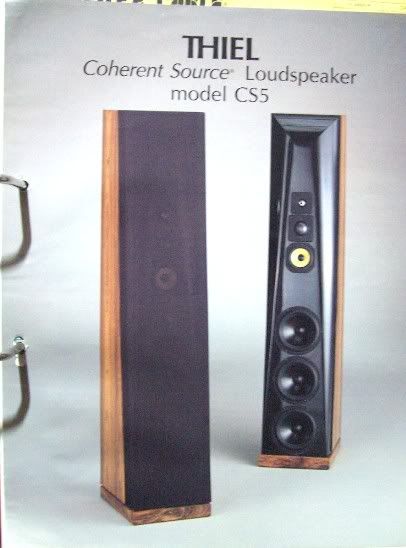 Another one of my dream speakers then which I never got to own. I liked Thiels a lot I brought in one myself, a pair of CS 3.5s prior to Avesco's dealership of the brand, and enjoyed them for a good many years. If Spica was the imaging champ for mini monitors, this one would be the imaging champ in the 'lightweight' division.
Magnepan Loudspeakers:
Good thing I got to own these. This is the only pair of speakers to make me smile the first few seconds it played music. From the day I got the catalog, it took me more than 10 years to buy one, and next year it will be 10 years of owning them. The best value for money speakers I have ever owned.
ASC Tube Traps: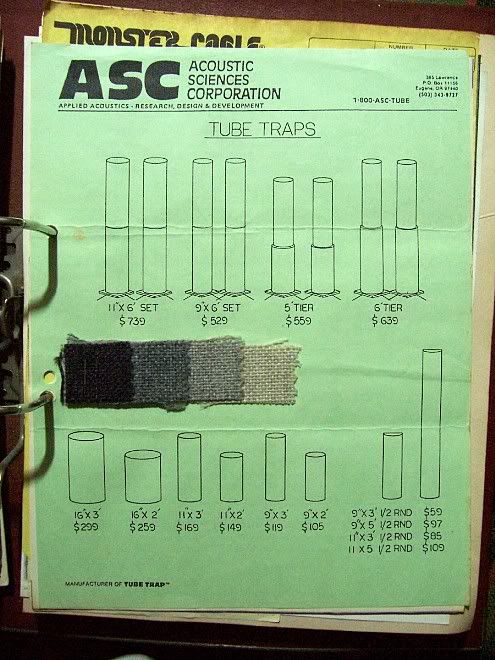 When the Traps first appeared in the pages of Stereophile and IAR, I thought of writing them. Art Noxon, the owner, was so accomodating he mapped out how many traps to be put in my old room in a diagram. The catalog even came with actual cut-outs of the fabrics for the buyers to choose.
Monster Cable Alpha 2 MC Cartidge:
Actually an invoice of my first indent order MC from the dealer of Monster Cable here in Manila. In those days, it was buying 'deaf-ly' from reviews (meaning, no audition at all ), and self-installation and fiddling around, and if one does not get the desired sound, it's bye bye time and hello to Mr Upgrade.
And here is the catalog: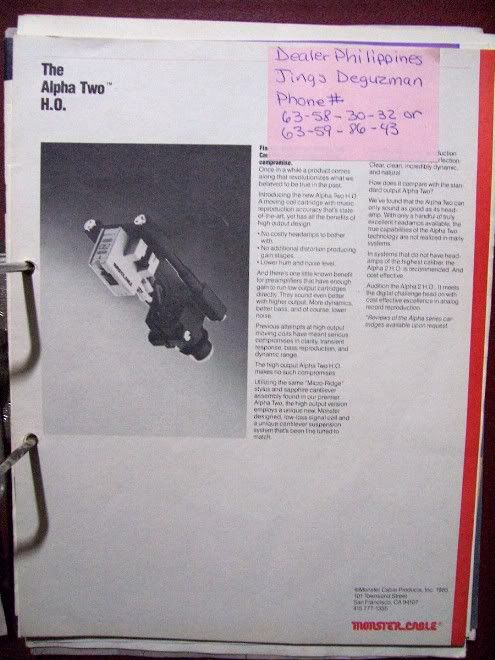 ........
to be continued.