My 2 cents
I recent "beautified" the industrial looking EMT after Setup2 fully restored it (together with 10" Ortofon Arm). With what Setup2 has learned about the EMTs…we designed an original enclosure/plinth to handle the mass and the vibration issues an EMT creates.
It also needed the front access door (with hydraulic closer) …for speed adjustment.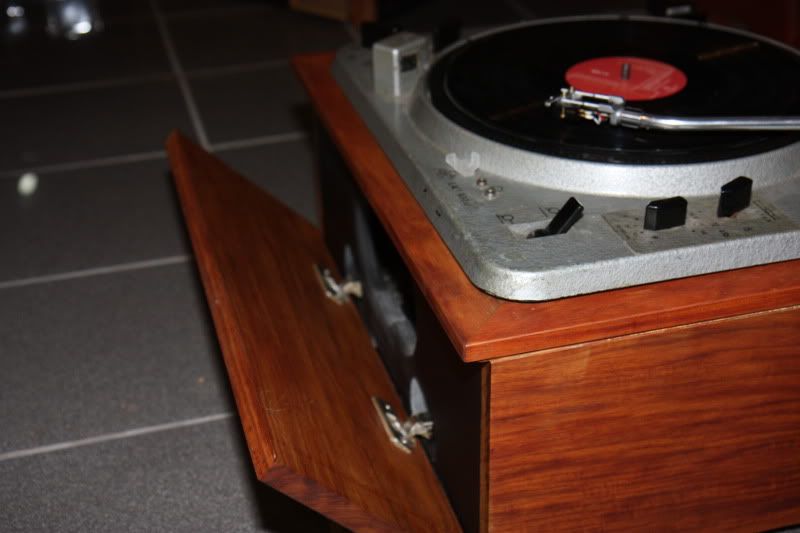 I was able to extensively A/B it with a Garrard 301 w/a vintage 10"arm, both tables loaded with Denon 103r. They were hooked up to all-tube SET gear together with a High resolution JBL Hartsfield 3 way monitor. I also had to modify the EMT/Ortofon arm to accept a standard headshell.
True the EMT is built/weights like a TANK, but if I were given the choice to choose between the two (EMT/Garrard) or any other turntable (modern/mega$)...it would still be a 301 for me. The simplicity of the Garrard to do its job is amazing …just like a perfect SUSHI, with minimal preparation and seasoning. The EMT with its awesome flywheel (heavily RIM weighed – resulting in very high moment of Inertia) would then be handicapped with its flimsy record mat/top/strobe. The speed control in my opinion is so "prehistoric" because it literally drags on the bearing/spindle resulting in heat/wear/sound. But I must admit I did not hear any sound/rumble thru my "full range" speakers. The Garrard has the non-conact magnetic speed control…simple and it works!
The sound of EMT and the Garrard EMT was very close ….full spectrum with a lot of dynamics and authority! I use duplicate LPs together my dual input Phono Stage to do the A/B listening.
But if I had the spare money or opportunity to own an EMT, It would be my #2 table …I definitely prefer it over a Thoren TD124. IMHO
Reasons why EMT expensive?
Heavy built - main-sub-platter very heavy
heavy duty - oversized bearing
huge motor is a quasi-3 phase industrial type
built in solid state phono stage with large power supply
high quality tonearm-included