Weiss digital products available locally.
WEISS DAC 202 FW:
http://www.weiss-highend.ch/dac202/index.html
"I really appreciate the musicality of your DAC. I listen to it for hours each day, and those hours are far more enjoyable since your DAC entered my system!"
Tom Mornini, USA
"I listened to the DAC202 last week and immediately ordered one. It is the best DAC I have ever heard. Period."
A customer on computeraudiophile.com
"All things considered, the Weiss DAC202 is the best-sounding DAC I've had in my system. (...) I've never heard better sound through my audio system than when listening to hi-rez recordings through the DAC202."
Jeff Fritz - UltraAudio
And:
USA – The Absolute Sound Editor's Choice Award
Japan – AEX Audio Excellence Award
Hong Kong – HiFi Review Product Of The Year
Thailand – Audiophile Product Of The Year
USA - The Absolute Sound Golden Ear Award 2011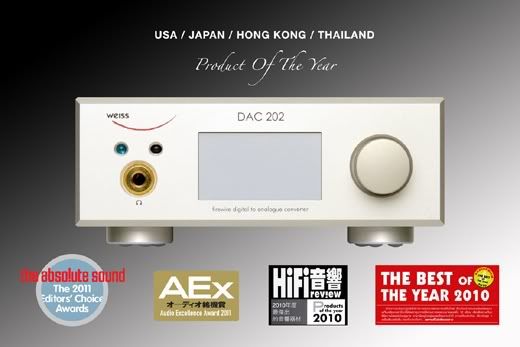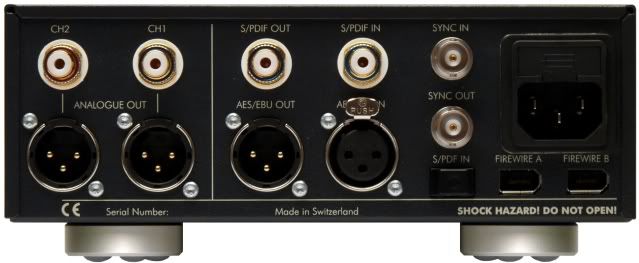 REVIEWS:
http://www.ultraaudio.com/index.php?opt ... &Itemid=37
"All things considered, the Weiss DAC202 is the best-sounding DAC I've had in my system. It's a match for the best I've heard with "Red Book" CD files, and eclipses anything else I've used when listening to music at greater-than-CD resolution. I've never heard better sound through my audio system than when listening to hi-rez recordings through the DAC202.
This means that the DAC202, and perhaps a few other DACs, embodies the current state of the art of digital audio. Its features, such as its bit-transparency check and selectable digital filters, along with a host of input options, also make it one of the most flexible DACs on the market today. Its sound with CD is equal to that of the best DACs I've heard, some of which cost much more, and its performance with high-resolution audio up to 24/192 is the best I've ever heard. If you can cough up $6670 for a DAC, and if you want to explore the outer reaches of sound quality with a hi-rez computer-based source, then the Weiss DAC202 should be at the top of your must-audition list."
http://www.stereophile.com/content/weis ... -converter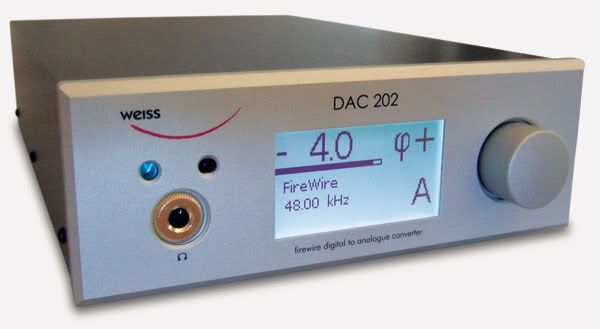 Describing the sound of the Weiss DAC202 is one of the easier tasks I've had to do for Stereophile. The DAC202 made music with delicacy and liquidity; its tonal balance was extremely natural, with a forgiving top octave; and it presented music with an easy grace that digital music rarely has. No matter what connection I used, which amp was in the system, or whether I was listening to high-resolution computer files or CDs, the DAC202 always retained these fundamental sonic traits. The Weiss was in no way concerned with dissecting music into its atomic elements, but instead projected its gestalt onto everything it played.
Classical music benefited from the DAC202's easy, liquid character. Latvian composer Eriks Ešenvalds's A Drop in the Ocean, from Polyphony and the Britten Sinfonia's Passion and Resurrection (CD, Hyperion CDA67796), was conveyed with musical generosity and an expansive soundstage. The DAC202 was kind to choirs, heightening their blend and offering remarkable tonal balance, with clear, unhighlighted sibilants and no trace of hardness. Via the DAC202, no part of the tonal spectrum was ever given undue prominence
http://www.avguide.com/review/weiss-dac ... ac-tas-208
It's difficult to remain complacent when you review a component that outperforms anything you've reviewed in the past. The natural tendency is to go into rave mode and turn the review into fan-boy screed. I have gone to considerable lengths to avoid this, even though the DAC 202 is good enough to cause a meltdown of any reviewer's critical facilities. As to whether the DAC 202 performs at a level equal to Weiss' $19,000 Medea or other manufacturers' mega-buck DACs, I don't know. I suspect at worst the DAC 202 will come very close, especially via its FireWire inputs.
But if you want to personally experience what the creators of some of your favorite albums hear, I can think of no component that will get you closer to a mastering suite than the Weiss DAC 202. If your computer has FireWire capabilities and you want a reliable, ergonomically elegant, and superb-sounding DAC, the Weiss DAC 202 is here, waiting for you.
PM for pricing and availability.
Thanks for looking.
Ferdie
0917-321-2079